By: Jon Higgins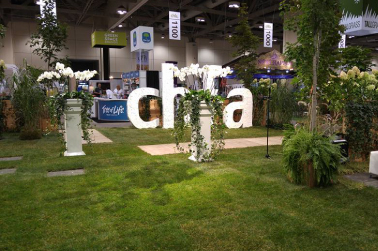 We just came back from the Canadian Health Food Association East trade show hosted every year in Toronto, Ontario.  This has always been a great show for us and this year was one of the best.  We had the opportunity to meet many new customers and connect with our existing customers.  We enjoy being a part of the growing health food industry.  As a software company, often times we work remotely and love any opportunity to see our customers face-to-face.  Trade shows allow us to meet with our customers and develop a more personal connection.  As a high-touch software company, having a personal connection with our customers is essential.
Trade show performance is very important and we cannot afford to waste a single minute while we are on the floor.  Minutes can make or break your overall success at any trade show.  We have been attending and exhibiting at trade shows for dozens of years and have made many mistakes along the way.  By learning from our mistakes and listening to the best advice from successful exhibitors, we've come up with the following tips:
1. Pre-show Marketing. Reach out to your customers and prospects that you know will be at the show and invite them to your booth.  You will be surprised how few exhibitors do this before a show.  Even more surprising is how many people will actually make an effort to show up after you have invited them. It can be helpful to prepare a special giveaway for attendees that do make an effort to show up when you invite them.  This should not be your only preshow activity, but a small 'hack' that makes a big difference.  We also recommend leveraging social media to promote your booth, product offering and show special.
2. Set an Objective. In any strategic plan, you need to have some sense of your end goal prior to entering in the plan.  Start with some objectives that you feel are attainable and measurable.  Some examples of trade show objectives are brand awareness, connecting with existing customers and executing your 'Top Prospect' plan.  With brand awareness, your objective is to raise the awareness levels of as many attendees of the show as possible.  With 'Top Prospect', you are focusing on targeting your top quality prospects that you can quantify and follow up with after the show.
3. Establish Relationships. You only have a few minutes with each prospect that comes to your booth.  Spend this time establishing a relationship and learning about who they are, what they do, and what brought them to the show.  This will make sure you know who you are talking to and if they are a potential customer.  It is better to establish this before you pitch your product or service.  It is your job to get a conversation started in order to determine who this person is and what their needs might be.  There is no hard sell at the booth, only relationship building.
4. Budget your Time. If your objective is qualifying leads, you should budget about six minutes per contact in order to complete this objective. This will allow you to meet the prospect, qualify by uncovering their needs, do a brief presentation to uncover the specifics, record their information, and move on to the next prospect.  Keep in mind; your prospects are in a hurry to see as many vendors as possible.  It is important to respect their time.  We've found that, if each staff member qualifies 2 – 3 'Top Prospect' leads per hour, you can consider it a successful show.
5. Follow-up with Leads. 70% of trade show vendors never follow up with attendees who visited their booth.  Most salespeople never follow-up because they have no faith in their leads, due to not properly qualifying them in the first place.  When the leads are properly qualified and the follow-up call is expected, you will quickly see the merit in shows.  This ensures your trade show efforts and investment is not wasted and you have direct action when you get back to the office the next week.   
Now we are certainly not perfect, but these are a few things that keep us focused and successful at our events.  Just like anything, the more shows you attend the better you will get.  You can begin to anticipate show traffic and set goals that are more accurate.  If you incorporate these 5 tips into your next trade show, you are sure to have more success. 
Be sure to check out our upcoming trade shows and events.