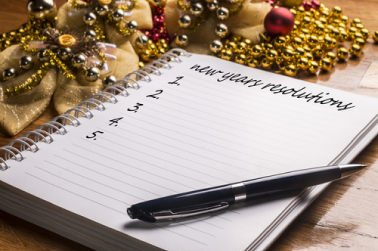 As the year winds down, it's an opportunity for us to take stock of what we have achieved in the last year and what we want to accomplish in the new year. Making resolutions is a great way to identify areas of your life and business that are not meeting their potential and fixing them with SMART1 goals.
44% of Americans will make a New Year's Resolution this year with about 68% claiming to keep at least a part of their promise last year2. That means that about a third of Americans are setting goals and achieving them every year.
Our customers are leaders in business and in their communities. They are definitely a part of the 1/3 of people that set and keep resolutions each year. We all know the standard resolutions most people make; to lose weight and save money, but if you are running a business what about making resolutions that will have a real impact on the success of your business? Maybe this year, you could resolve to make the changes that you have procrastinated about all year and finally use technology to take your business to the next level?
In a recent Marist poll2, people identified the following top resolutions. We've adapted them here for your point of sale and retail management system so without further ado, here are our top 5 New Year's POS Resolutions:
Be a Better Person

People identified being a better person as their top resolution in 2018. What a great resolution, but how can your point of sale system help you with that? Well, with our paid out tracking at the point of sale we can help you to manage your charitable giving. When donating to charities out of petty cash you can set reason codes and report on donation amounts for tax purposes.
Lose Weight

No surprise here. Most of us want to lose a few pounds, especially after all of the holiday celebrations and your store is actually no different. After a busy holiday season, your inventories can get bloated with left over items that need to be cleared out. Using our scientific algorithms to suggest smarter purchases and our advanced reporting to identify dead stock that needs to be cleared out, you'll have your inventory trim again in no time.
Exercise More

We know that daily exercise is very important to our overall health but maybe this year, you could resolve to exercise your management skills more. Many of our customers get stuck in their day to day routine and spend their time working "in" their business rather than "on" their business. Successful managers make time to review their Star-Plus Dashboard every day to make sure that they are meeting their goals. Use WebPoint Report Studio for even more business intelligence and KPI reporting.
Eat Healthier

Your customers want to eat healthier and you can help them. Maybe it's time to make some changes to your confectionary section and begin to carry the healthier products that your customers are looking for. Natural products are no longer a niche trend with most larger chains integrating full lines into their stores. We integrate with major suppliers like UNFI and KeHE to make inventory ordering and management easier. If you're not sure where to begin, you may consider becoming a member of the Natural Products Association in the U.S. or Canadian Health Food Association in Canada. They have great resources to help get you started.
Spend Less and Save More

Did you know that your Star-Plus retail management software can even help you to spend less on your inventory? Using our negotiation function in the Purchase Order program, you will be able to easily compare suppliers to make smarter purchases. Viewing sales history, current purchases, upcoming promotions and each suppliers' costs you will have all of the information that you need to negotiate a better price or find a better deal.
What New Year's POS Resolutions are you setting for your business?
Happy New Year to all of our great customers, partners and suppliers. We hope you all have a safe, happy and profitable New Year!
1Specific, Measurable, Achievable, Realistic, (in a) Time Frame
2Source: http://maristpoll.marist.edu/1220-being-a-better-person-weight-loss-top-2018-new-years-resolutions/