By: Josh Wintoniak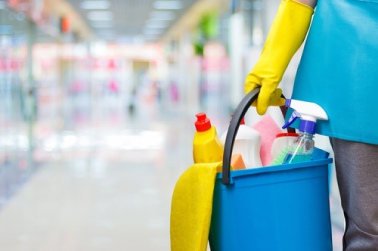 It is the first day of spring as I write this and I don't want to jinx it but it looks like winter is finally starting to break and warmer weather is on the way. As the snow and cold goes away so too do our excuses for not taking care of everything that we have been putting off all winter. For most people this means a thorough spring cleaning. It's an opportunity to take care of any repairs that you've been avoiding, clean up the yard and refresh your home with some new decorations. Like your home, your point of sale system probably hasn't received the maintenance and attention it deserves in a while. Whether you are a pharmacy, grocery or health store, utilize these 5 tips to spruce up your POS system this spring.
A Thorough Cleaning
While your POS database doesn't collect dust, it can definitely collect a lot of unnecessary information over time. There are a number of tools in the Star-Plus point of sale and retail management system to make a database clean up easy. For instance, the items with no sales report will help to identify products that haven't sold in a long time. You can set them to phase out so that Star-Plus won't suggest that you re-order them again and put them on sale to get them off of your shelves to make space for more profitable items. While unnecessary for all but the largest retailers, Star-Plus also gives you the ability to archive old transactional information to shrink the size of backups and make systems run more quickly.
De-Clutter
Ever have trouble finding an empty space on your desk? Believe me, I know the feeling. Invoices, reports and statements can pile up after a while. Why not de-clutter this spring and eliminate all of that paper by using Star-Plus integrated email features. Most reports can be scheduled and emailed on a daily, weekly or monthly basis. Save paper (and postage) by emailing charge account statements to your customers and streamline your ordering by automatically emailing purchase orders to your suppliers.
Re-Organize
Along with a thorough cleaning after a long winter, you'll probably want to take the opportunity to reorganize and put everything in its place. Without regular monitoring and maintenance, your product file can become a mess. The Star-Plus POS system helps you to make sure that everything is setup correctly and in its correct place to ensure that you're maximizing your margins and not missing out on any sales. Take a look at the data anomaly report to identify items in your store that aren't setup correctly. Zero cost, under target margin, no vendor and no retail are just a few of the issues that can quickly be highlighted before it causes a problem for your staff, your customers and your bottom line.
Maintenance
Spring is a good time to clean out your gutters, replace your furnace filters and test your smoke alarm batteries. These jobs are important to save from costly problems in the future. Just like your home, your POS system requires regular maintenance to ensure that it is in good working order and to save you from major headaches later. Take this opportunity to check that your nightly backups are working and that you have a process for off-site backups, run all Windows updates, update your antivirus and ask your reseller or support provider about PCI compliance.
Re-Decorate
Not only can you freshen up the look and feel of your home or store during spring cleaning, you can do the same for your POS system. Star-Plus gives you many opportunities to ensure that your branding is reflected throughout any interaction with your customers. Use spring cleaning as reason to review the logos on receipts, the till, charge account statements and gift certificates. Update images and advertising on the customer screen at the point of sale. Refresh the messaging on receipts to promote your store and take a look at our integrated signs and labels designer to see how you can freshen up the look and feel of your labels, shelf talkers and signage.
With spring comes new growth and opportunities. Use this spring cleaning checklist and a little elbow grease to have your Star-Plus point of sale system operating in top form.