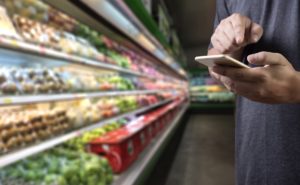 The farm-to-table movement, consumer demand, and changing technology are contributing to the lightning speed changes of the food industry. Grocery and supermarket retailers need to evolve in order to remain competitive in a world where convenience and food-consciousness are top of mind for consumers. Is your business ready for these food trends in 2018?
Enhanced Shopping Experience
If you have been shying away from sampling stations, 2018 is definitely the year to implement them. Consumer expectation is for an engaged shopping experience, even among food stores, and sampling is the easiest way to cater to this growing trend. In fact, according to a recent Forbes article, 70% of shoppers are more likely to buy if they get a chance to try a product in the store. Some grocery retailers are taking sampling stations one step further by incorporating beer and wine bars into their stores, as well as cafes that offer in-store dining and dining club rewards. By engaging your customers with a heightened shopping experience, not only will you increase your sales potential, but build the customer loyalty that will help your store remain competitive today and in the future. Make sure your grocery point of sale (POS) system can capture valuable data to further build customer loyalty with special offers and purchase points that will keep your customers returning.
Meal Kits
At least some of the time, 67 percent of households with kids outsource cooking to the grocery store. According to the NPD Group, in-store restaurants, pre-ordered meals, heat-and-eat, and meal kit offerings pushed retail food service over the $35 billion mark last year! As far as food trends in 2018, make sure your store has a seat at the "packaged meals" table, allowing you to pick up your share of the market and gain a competitive edge over home delivery food subscription services.
Focus on Fresh
Health-conscious consumers are pushing heightened food transparency. According to the Food Marketing Institute, while 88% of shoppers believe eating at home is healthier than eating at a restaurant, an astounding 72% are concerned they're not getting enough nutrition from foods they eat at home. Consumers are more mindful than ever, and the renewed focus on the body-mind connection is influencing grocery retail. Consumers want to know and understand ingredients. Grocery retailers can remain competitive by giving health-conscious consumers the convenience of healthier options at your store.
Tech Connection
It's no surprise that the tech savvy consumer is driving new technology-related food trends in 2018. Grocery retailers need to position their checkouts for mobile payments, as millennials drive this trend across industries. Additionally, shoppers are not only using their phones to build smart shopping lists, they are looking up recipes. Don't underestimate the influence technology empowers you with, such as targeted promotions based on customer purchase trends and analysis.
It is an exciting time to be in the heart of the food industry. However, it can be a challenge for grocery retailers and supermarket managers to balance business operations with implementing new strategies that will continue to grow your market share.  Learn more about streamlining your business operations so that you can add the services that will grow your consumer base today and in the future, by downloading Auto-Star's  guide, "The Ultimate Point of Sale & Back Office Management System: A Checklist for Grocers and Supermarket Managers."