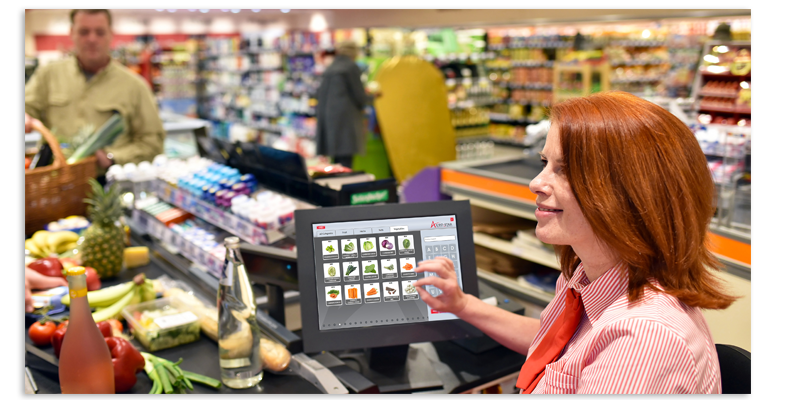 The grocery checkout aisle: It's your last chance to leave a good impression on shoppers with a fast, efficient point of sale (POS) experience. With hundreds of products and potentially dozens of keyed entry processes, it can create real challenges for cashiers trying to provide customers with quick and efficient service.
This pain point has prompted Amazon to attempt a wildly new check out strategy, where the process is entirely automated. The Amazon Go store in Seattle allows consumers to utilize an app when they enter the store, take products, and then just "go." However, most grocers are faced with technological limitations that make implementing a checkout-free experience unlikely in the short term. That doesn't mean there aren't other options available to help independent grocers streamline this process to better compete with this new technology while providing a more personal experience for consumers. Here are four things you can do to simplify the grocery checkout process:
1. Reconfigure Your Checkout Process
Since eliminating the grocery checkout line is probably out of the question, instead identify ways to improve your existing process to make it faster. You may want to consider line busting as an efficient way to speed up the checkout process. An associate equipped with an android device will greet customers in line, scan their purchases and provide a receipt. Then, the next available cashier will ring them through.  
2. Empower Your Cashiers
An answer to faster, more efficient checkouts may not be a major technology upgrade. More effective training for cashiers can help speed up the grocery checkout process and increase customer satisfaction. To keep your employees effective in the checkout line, provide them with proper technical knowledge on your POS and payment processing systems.
Another idea is to review cashier performance reports or to host bagging competitions. Cashiers provide the last impression your store will leave on the customer, so it is critical that their customer service skills be on point. Encourage employees to use strategies for packing items to use the fewest number of packages and quickest bag times. Bagging competitions will provide your cashiers with a fun and low-pressure way to practice honing their bagging skills.
3. Implement a Reliable and Intuitive Point of Sale System
Not all point of sale systems are created equal. Grocers need a POS system that's dependable, fast, and easy-to-use. Invest in a system that benefits both the employee and the customer at the grocery checkout.
The best solutions will unify POS and back office processes. For small businesses especially, cashiers may also have back office responsibilities. They may be tasked with both quickly finalizing a purchase as well as checking product inventory for a customer request. Implementing technology solutions like mobile apps and price check kiosks can help employees speed up this process. The faster an employee can do both, the faster they can move customers through the line.
4. Ditch the Handwritten PLU Lists
Handwritten lists or having cashiers rely on memory for PLUs (price look-up codes) can drastically slow down the grocery checkout process and greatly increase training time for new staff. Look for tools that can provide rapid look up of items right from the POS.  
For example, Auto-Star's grocery POS software provides a Quick Flip application complete with 500 images from the International Federation of Produce Standards List. This easy to set-up solution is fully customizable, making product lookups a breeze.
Scanning and bagging takes time, which makes the grocery checkout process slower than a fully automated process. However, there are affordable and common sense solutions that grocers can utilize to improve wait times and customer experiences and to gain a leg up on the competition. Contact Auto-Star to learn more about our grocery POS software, and how it can help your business.