By: Josh Wintoniak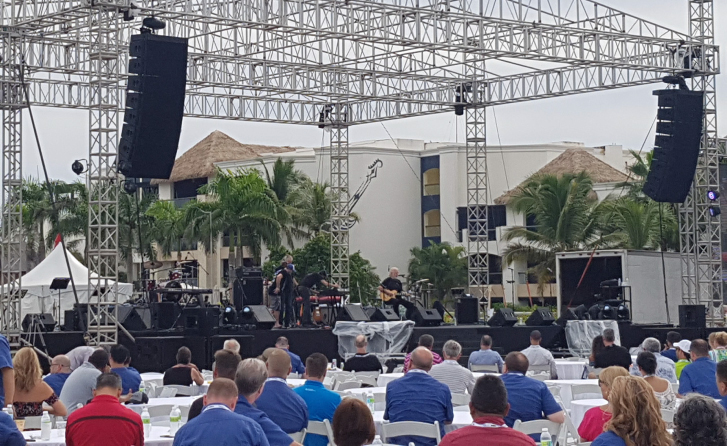 We attended the BlueStar VARTECH 2018 Conference this month at the beautiful Hard Rock Resort in Punta Cana, Dominican Republic. VARTECH is always a great place for us to reconnect with industry partners while introducing our products to new value-added resellers, but when I looked at the conference agenda, I was a bit disappointed. Randy Bachman of The Guess Who and Bachman – Turner Overdrive was listed as the keynote speaker on the opening day. Now, don't get me wrong, as good Canadians, we know that Randy is a music icon, but what does he know about the business of selling retail technology or the point of sale market? Well let me tell you, I was pleasantly surprised with one of the best keynotes I've seen recently. Randy played us through his experiences with The Guess Who and B.T.O., telling stories along the way. Like any good keynote, we left feeling excited and inspired for the conference ahead. Here were my favorite take-aways:
Follow Every Opportunity
When it comes to selling retail technology, it's important to make time for both current and prospective customers.  A little effort goes a long way to building your bottom line. Randy talked about driving all across North America from Winnipeg, Manitoba, Canada for $400 gigs in everywhere from high school dances to curling rinks. His persistence and willingness to jump at any opportunity was a big part of the early success of his band. If you want to grow your business, be persistent in following every lead.
Be Ready for What's Next
Most people will have a bunch of great ideas over their lifetime but will never act on them. Randy Bachman was driving over the bridge into North Vancouver when he thought of the chorus from "Taking Care of Business" and wrote it down on a McDonald's napkin with a broken crayon he found in his glove box. You never know when inspiration will strike. Be ready for it, capture it and most importantly, ACT. The POS marketplace is continually evolving. When selling retail technology, value-added resellers must be diligent in their pursuit of knowledge. Know the latest solutions on the market that will solve new pain points for your customers.
Feel Free to Steal
Hearing Bob Dylan's "Ballad in Plain D" on the radio, Randy was struck by the lyric "She was Easily Undone." He unabashedly stole a great line that he loved and wrote the hit song "She's Come Undone." In addition, when writing "Taking Care of Business," Randy was really just trying to recreate the Beatles classic "Paperback Writer." By copying it and making it his own, he ended up writing one of his biggest hits. In the business of selling retail technology, there is nothing wrong with copying strategies that work. Research your competitors to see how their strategy may differ from your own, and then leverage it to your advantage.
Hire Good People and Collaborate
With B.T.O., Randy stumbled upon one of his biggest hits with "You Ain't Seen Nothing Yet." Originally, when Randy pitched the album to Charlie Fach from Mercury records, Fach was unimpressed with the collection's lack of hit potential. He would know after all–Fach had worked with everyone from James Brown to Jerry Lee Lewis. Searching for that hit to pitch, Randy played a throw away song that he had recorded to make fun of his Brother Gary's speech impediment. When Fach heard the classic stutter line, "B-, b-, b-, baby, you just ain't seen na, na, nothin yet," he jumped out of his chair knowing that he had found what he was looking for. Case in point, selling retail technology requires collaboration. Problems aren't always solved with the first idea, or the first solution. Listen to what your customer is looking for, and adjust to meet their needs. In addition, listen to your fellow team members. The best ideas are often built by a group. Surround yourself with good people and let them do their job.
In closing, you can learn a lot from any successful person regardless of their field. The things that make you successful in the music business can translate directly to selling retail technology and the POS market. Next time I see a speaker that I'm unsure about I'll be more open-minded. Thanks to BlueStar and all of the VARTECH 2018 conference sponsors for creating a great event and having Randy share some of the lessons he has learned over decades of experience in the music industry.
To learn more about the Auto-Star point of sale software solution and our industry leading you first partner program for value-added resellers of POS technology visit www.youandautostar.com.