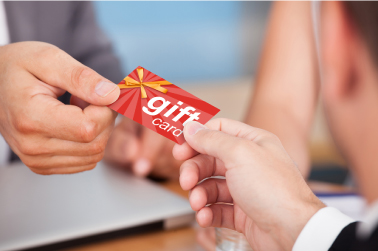 Don't hate me for bringing this up but there are only 40 days until Christmas. If you are like me though, it doesn't matter how many days are left, all of your Christmas shopping will happen at the last possible moment. What better present to buy someone last minute than a gift card for their favorite store? (yours!)
In fact, almost 60% of consumers would prefer to receive a gift card rather than items such as electronics, clothing or other entertainment media. Not only is it good for customers, but of course we all know how important retail gift card programs are for stores like yours. Customers will typically spend up to 38% more when using a gift card 2 and of course, they are much more likely to shop at your store again when they have a gift card with a remaining balance.
With all of these great reasons, let's look at some tips to take your gift card program to the next level:
Tell People about It
This one should be obvious but given the huge value of gift cards to the success of your business, you would think that stores would give more attention to promoting their program to customers. Add gift cards to your customer screens to tell people about your program at the checkout. Add gift card messaging to your signage throughout the store by adding to the comments printed using our Signs and Labels module. Easily add information for your retail gift card programs to the bottom of printed and emailed receipts as well as monthly Accounts Receivable statements.
Promote
There are many ways that a point of sale system can help promote retail gift card programs. Using the Star-Plus Advanced Gift with Purchase module, you can give customers a gift card based on specific threshold purchases in the software or even by exchanging loyalty points. For instance, when a customer spends over $250 from your cosmetics section they could receive a $25 gift card promoting a future stop at your store. You can also use advanced gift with purchase to give customers a free item, discount, entry form or bonus points for every gift card purchase over a certain amount.
Incentivize
Your cashiers and sales associates are in a perfect position to promote retail gift card programs. Why not setup a contest for your staff to see who can sell the most gift cards in a month? Encourage competition by posting the weekly results. Use the Star-Plus transaction log viewer to query how many gift cards each cashier has sold.
Get Creative
Many of our customers want to get the cheapest price possible when purchasing the physical gift cards by ordering thousands of cards with the same images and messaging on them. While we certainly understand that impulse, you may be holding back some gift card sales. Holiday or special event branded cards like Christmas or birthdays are more likely to be purchased. Have fun with your gift cards and create designs that are fun to give and receive. When ordering cards, select some cards with fixed values that can be displayed at the register. With $25, $50 and $100 cards displayed, your customers are more likely to buy a gift card in a higher value than originally planned.
Remember, Auto-Star gift cards are a win win for your customers. They want to buy them and you really want to sell them. Use these tips to help take retail gift card programs to the next level and help us last minute shoppers in the process too.
To learn more about Auto-Star and enhancing your customer loyalty program contact us today or download one of our free buyer's guides.