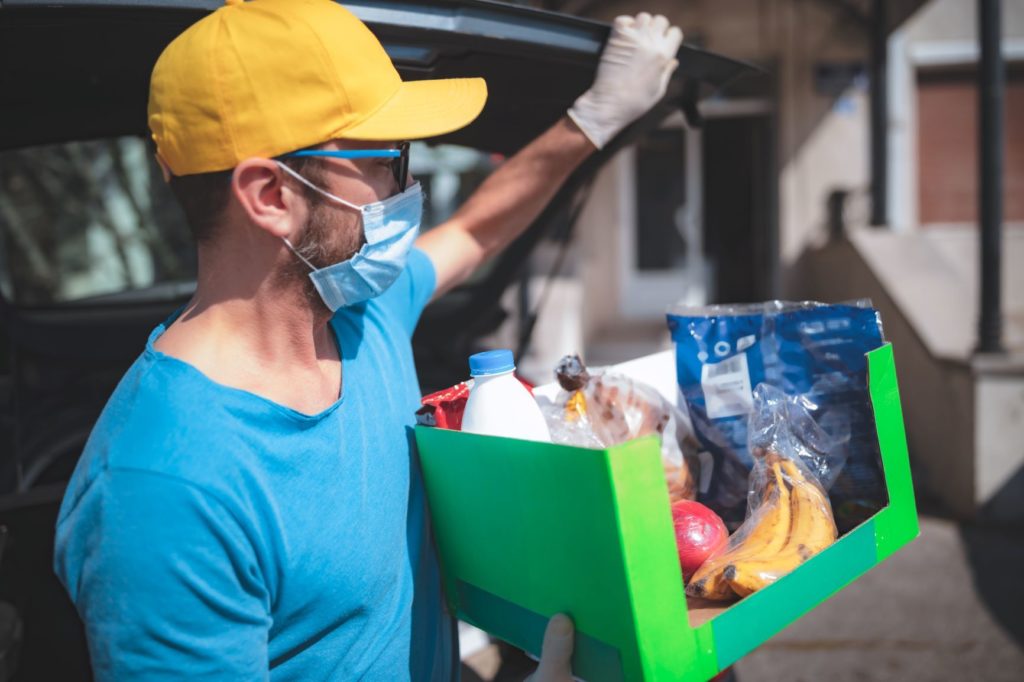 COVID-19 has had quite a significant impact on the grocery industry. With shortages in your supply line, social distancing, and the threat of an outbreak in your area ever-looming, the effects have been widespread.
Consumer behavior has been altered. Instead of spending time browsing aisles and looking for deals, many customers are intent on getting in and out as quickly and safely as possible. Many are even turning to alternate channels to purchase their groceries.
All of this has led to a new normal, to which the industry itself has had to adapt. Grocery retailers are right to be looking for new strategies, initiatives, and technology they can implement in order to remain agile and profitable in this new grocery landscape.
Here are a few key adaptations that grocery retailers have undergone to stay unbeaten in and beyond the COVID-19 era:
Mobile Delivery
Consumers want to protect themselves and their families from infection and have searched for ways to purchase their groceries without having to leave their homes; this has led to a widespread expansion of grocery retailers offering mobile delivery options.
With mobile delivery, consumers can order their items from the comfort of their home. Once the order is placed, a detailed manifest of the order gets sent to the point of sale system (POS), where an employee receives it, pulls all the items from the shelves, packages them up, and sends it out to be delivered that same day.
Adopting services like these in such critical times can help you survive while also helping foster better customer loyalty and expand your store's reach.
Online Ordering and Pick-up
Much like mobile delivery, consumers wanting to prevent the spread of COVID-19 have flocked to grocers with online ordering and curbside pick-up options rather than shopping inside the brick-and-mortar locations.
This has been a major saving grace for grocers as consumer behaviors change. According to a recent article from Supermarket News, 40 percent of consumers are shopping at fewer stores, 28 percent are shopping more online, 15 percent are avoiding typical brick-and-mortar stores, and 10 percent are avoiding stores altogether. Because of this, grocers must integrate online ordering and curbside pick-up services into their POS to adapt to these changes in shopping behaviors.
eWIC Integrations
Because this virus has wreaked havoc on so many major industries, the economy has been stifled. More consumers are relying on government assistance programs like the Special Supplemental Nutrition Program for Women, Infants, and Children (WIC). This program provides federal grants to states for supplemental foods, healthcare referrals, and nutrition education for low-income pregnant, breastfeeding, and non-breastfeeding postpartum women, as well as to infants and children up to age five.
With the eWIC integration for the POS, grocery retailers can process these benefits like debit cards, making the process more convenient for customers and grocery staff. Because of new federal mandates, grocers in all states must implement electronic benefit transfer (EBT) for WIC program benefits by October 1st, 2020. It's essential not to delay upgrading to this integration so that you can stay compliant, not to mention profitable in an era where more families are relying on benefits to stay afloat.
Replenishment Purchasing
Replenishment purchasing is a handy tool in the COVID-19 era, especially when consumers are panic buying. This allows you to calculate purchase orders based on inventory sold in a specified period to save time and optimize your list. Especially now, with shortages for paper products, cleaning supplies, and other items commonly found in your store, it's important to implement methods to track and reorder supplies as needed.
Grocers can automate this task with preset parameters, ensuring the most popular products are ordered ahead of time and in-stock during peak times. It allows you to count and receive inventory in real-time without redundant and repetitive data entry. By automating this process, you can increase your inventory ordering accuracy, thereby reducing storage space and overall investment.
COVID-19 has impacted grocery retailers significantly and ushered in enormous changes in consumer behavior. For grocers that want to remain successful and thrive in the new normal, they must adapt to overcome. Invest in new, high-quality technologies and implement shopping initiatives that can help meet your customers' evolving demands while reaping the unique benefits they provide to your store.
Are you ready to take the next steps to ensure your grocery store thrives in, and beyond, the COVID-19 era? Download our Grocery POS Buyer's Guide to learn more.