AGILE AND ACCURATE ELECTRONIC SHELF LABELS
Transforming Pricing Management and Store Operations
Improves Pricing Agility, Accuracy, and Integrity
For over 40 years, we have worked with retailers to develop a retail point of sale (POS) system that excels at bringing out the best in grocery, pharmacy, and natural health businesses. Now Auto-Star is helping merchants bring their stores into the new digital age with electronic shelf labels (ESLs), also referred to as digital price tags. These innovative smart price tags are powerful tools that will become your most valued asset that helps automate price management, streamline inventory management, connects to the POS system for real-time order replenishment, and more!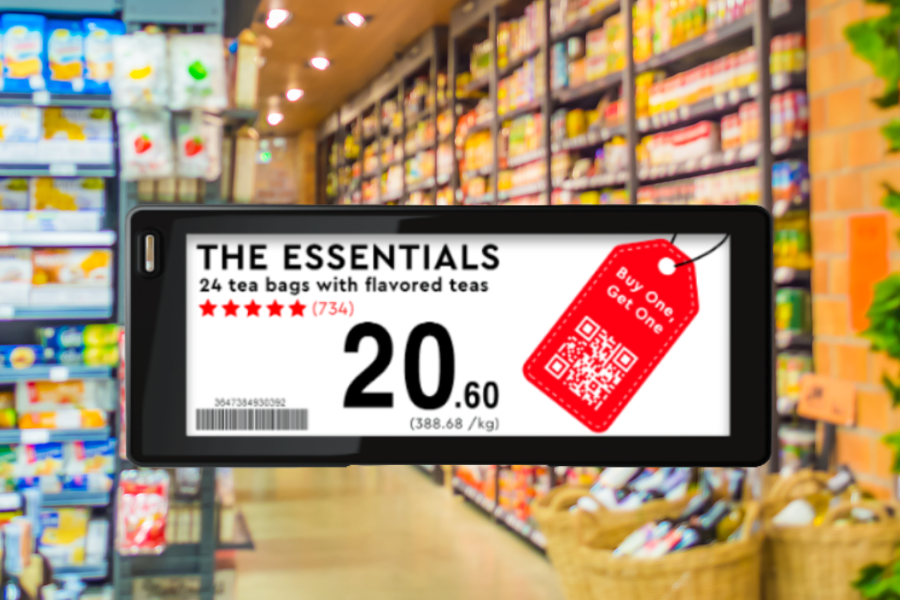 Ready to increase revenue and manage your business better?
It's never been easier to take your business to the next level with Electronic Shelf Labels.
Synchronize Prices, Product Information, and Marketing Content
These innovative ESLs establish a connection between shelves and the pricing engine. This enables inventory reduction and minimizes out-of-stock situations along with excess waste while enhancing on-shelf availability and adherence to merchandising standards.
The ESL dashboard makes updating prices a snap. With multiple synchronized ESLs store prices update instantly
Use dashboards to collect accurate data on information like: Which products are out, where are they, how many facings and space shares there are, and pricing.
Seamlessly push promotions to price tags to sell more inventory for slow-moving items to pique customer interest.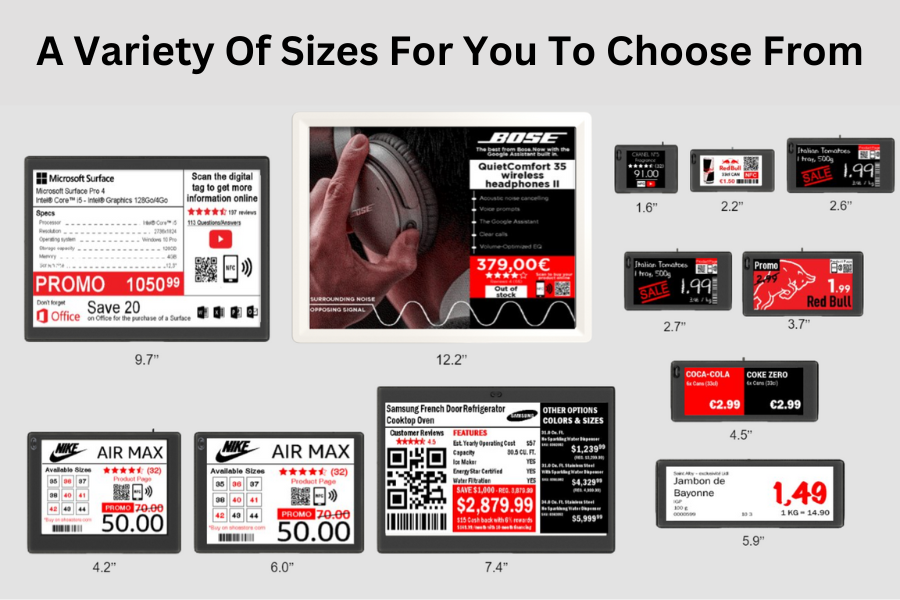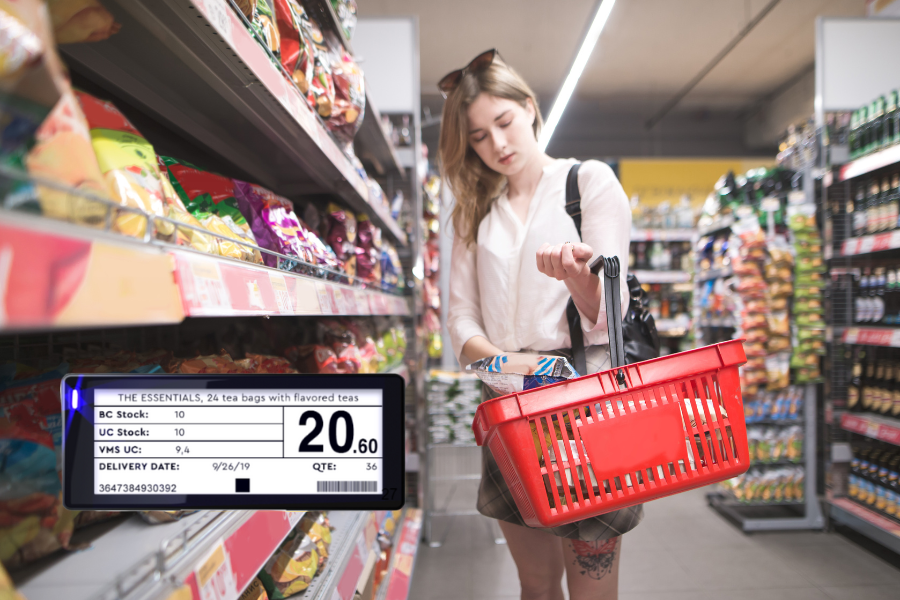 Catch Customer Attention with ESL Hardware
These advanced displays with excellent image quality will captivate the attention of shoppers and entice them towards your featured products. You can find a fit for any shelving system with a wide array of versatile mounting options and sizes. While resting easy, knowing they can handle daily wear and tear due to their durable construction.
Digital ESLs support several languages, including English, French, and Spanish, so that you can accommodate a wide range of customers.
High-resolution screens paired allow retailers to create clear and attractive labels featuring pricing and product information.
Low power consumption extends ESL battery life, so your labels need less maintenance and electricity to produce eye-catching labels.
Improve Employee Operations
Price tags update automatically, which means staff no longer have to deal with the cumbersome task of replacing paper tags manually. Allowing them to focus on other valuable tasks such as customer service and maintaining the shop floor. 
Prioritize customer service and merchandising tasks by reallocating staff duties from price tag to inventory management.
Automating the process eliminates the chance for human errors, reducing discrepancies and customer complaints.
The ability to make quick and dynamic price adjustments, employees can respond promptly to market changes, promotions, or seasonal variations, maximizing sales opportunities.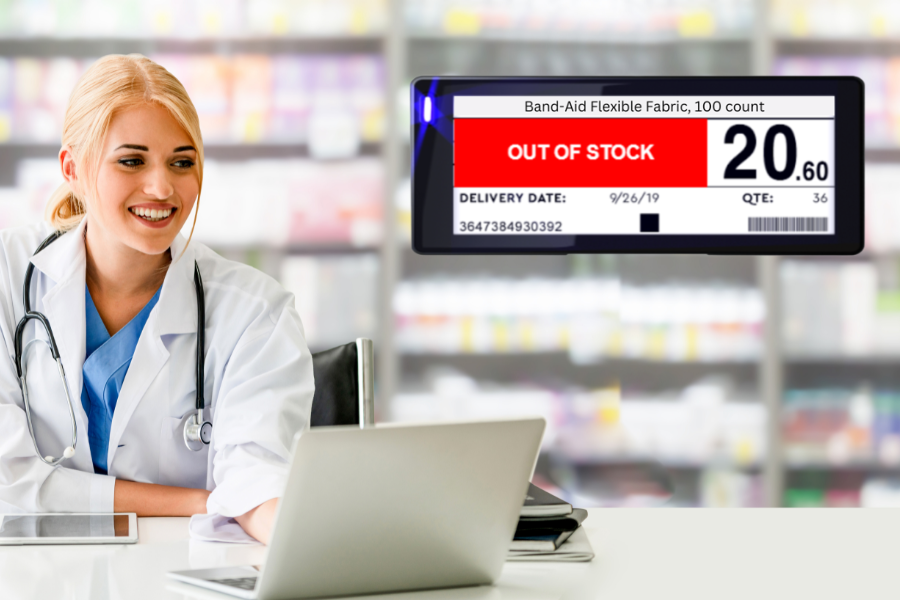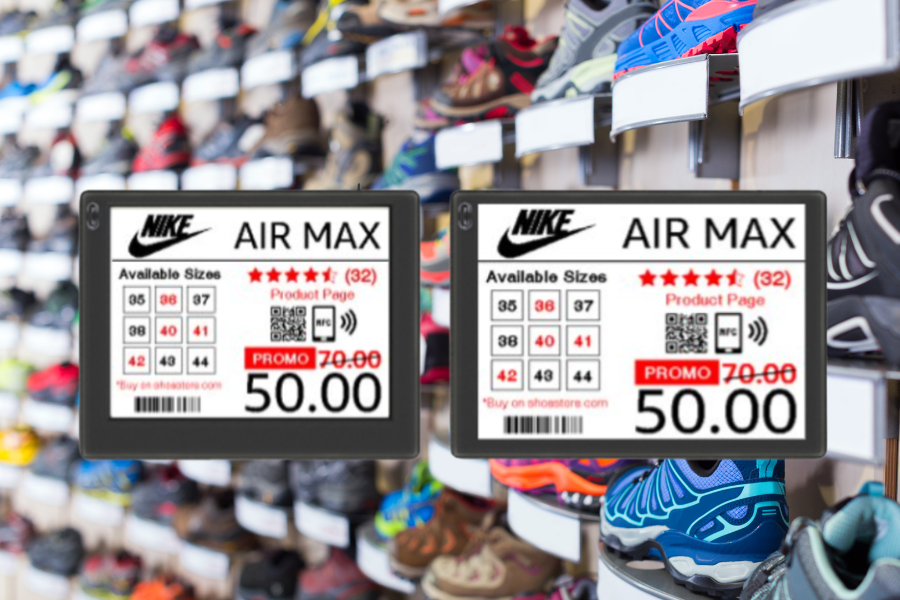 Provide a Better Customer Experience
ESLs create a better customer experience in many ways. With a variety of sizes available, more information can be displayed, like product sizing, nutritional, and promotional information. With features such as product search, and pathfinding, consumers benefit from a smooth shopping experience, in addition to attentive employees whose main focus is customer satisfaction.
Customers can enjoy enhanced omnichannel experiences. QR codes can be used to access product ratings and customer reviews from the website.

Respond to changing market prices quickly to keep customers satisfied, creating consumer trust and generating customer loyalty.
For specialty retailers such as fair trade dealers, information like place of origin or product reviews can easily be displayed.

READY TO INVEST IN ELECTRONIC SHELF LABELS?
Our Team is Ready to Help Transform Your Omnichannel Management and Operations.