Local inventory on Google
Local inventory on google, in Star-Plus
Local Inventory on Google (formerly called "Pointy") is available as a free feature from Auto-Star and Google. By turning on this integration, information about your store and the products you sell will be automatically added to your Google Business Profile. This increases the chances that your store will show up in product-related searches on Google, for people in your area.
Google also offers optional premium features such as local inventory ads, where you can create ads for all your products.
Note: In order for Local Inventory on Google to work for your store, you must be using UPC/EAN barcodes on your products.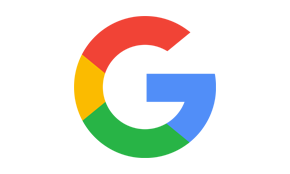 How to install Local Inventory on google
1. To install Local Inventory on Google on your Star-Plus point of sale (POS) you need to be operating version Star-Plus 8.3.1 with the latest patches, or higher.
2. Once your POS is up to date please locate the Pointy Setup Wizard on your POS on the Till Apps and Parameters Tab of the Star-Plus menu.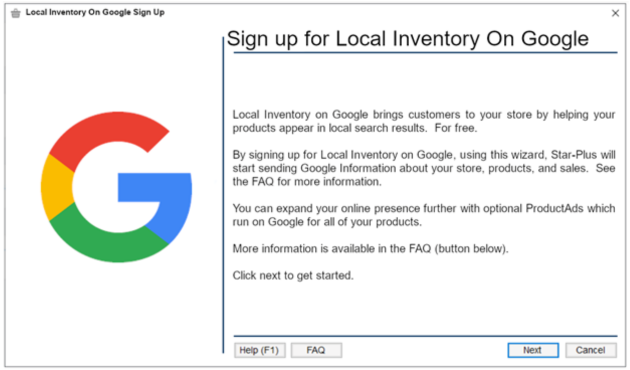 Note: the above screen is for version 8.3.5 of Star-Plus. Older releases may show the term "Pointy" instead of "Local Inventory on Google", and may show an older Pointy logo.
3. Work through the signup Wizard, following the instructions as they appear.
4. Please fill out the owner information, store information and store hours and click next.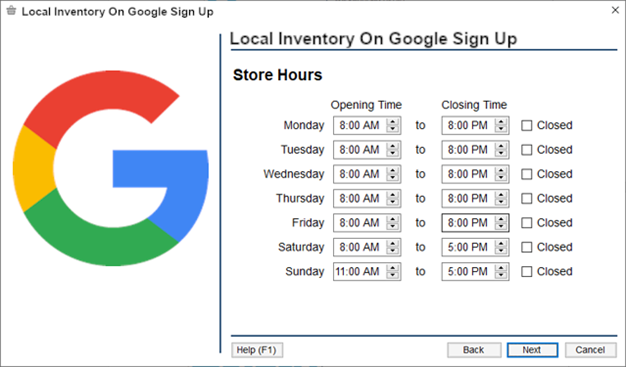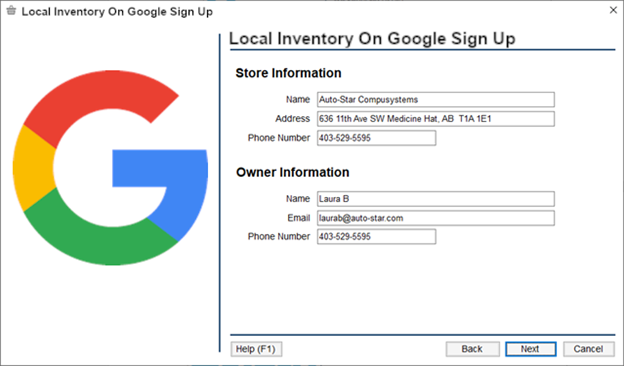 5. On the review screen, review all the information entered before it is sent to Local Inventory on Google.
If the setup is successful you will see the below screen.  It will not have any inventory or sales uploads done just yet, this is okay. This will be done automatically:
Inventory is uploaded at 5:00 a.m. daily
Sales are uploaded every 10 minutes throughout the day.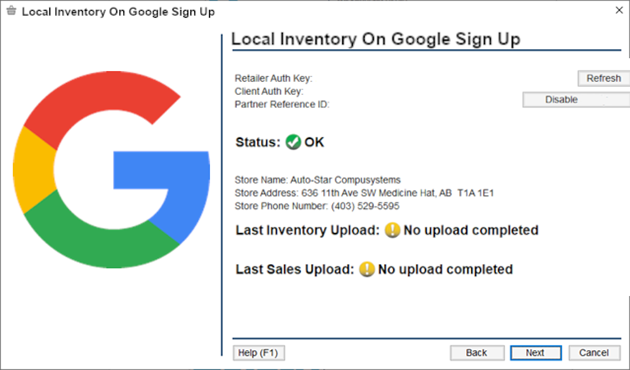 6. To complete the signup process please check your emails and:
Verify your email address.
Log into your Google Business Profile to manage settings.
1. How do I upgrade my Star-Plus Point of Sale (POS)

Please contact your Star-Plus technical services team to upgrade your point of sale.
2. How do I access the "Local Inventory On Google" Setup Wizard on my POS? Where is it located? 
The Local Inventory On Google Setup Wizard can typically be found on the Till Apps and Parameters Tab of the Star-Plus menu. If you don't see it after you upgrade please contact your your Star-Plus technical services team.
3. What do I do if after completing the sign-up steps the Pointy status is "Not OK"?
Please contact your Star-Plus technical services team.
4. What information/data does Google receive when I connect it to my POS?
Once you have connected to Local Inventory on Google, Google finds an image and description to match each of your products from their database. This then goes on your Pointy Page. To get the most out of Local Inventory, they receive information about your POS inventory, stock levels, item information including description, costs and retail, and sales history (to estimate stock levels on your page).
5. How do I access my Local Inventory on Google account?
Access this information via your Google Business Profile.
6. How much does Pointy cost?
The core service is completely free for integration partner users. Merchants can opt for additional per-fee services from google, such as targeted advertising.

READY TO TAKE THE REINS AND GET BETTER CONTROL OF YOUR BUSINESS?
Get a POS solution that will provide you with industry-leading analytical reports and stay ahead of the competition.