Pharmacy Retail Technology Overview
In today's retail pharmacy industry, competition is fierce. As consumers become accustomed to faster, more convenient shopping experiences, their expectations and standards begin to rise for all industries across the board– including your retail pharmacy business. Consumers want retail experiences that are quicker, easier, and more personalized than ever before.
One of the most valuable allies at your disposal is your point of sale (POS) system. This technology tool has become way more than just a cash register, evolving into a powerful, comprehensive asset used to help navigate the pharmacy landscape. A quality POS system will not only streamline your checkout process, but also strengthen your customer relationships, increase your security, collect and report on critical data, and automate your day-to-day processes.
With such a variety of point of sale solutions to choose from, it's important for pharmacy owners to know exactly what to look for– and what to avoid– when searching for new pharmacy retail technology tools that will grow their business.
Pharmacy POS Hardware
Before diving into the software specifics, it's important to note the pharmacy hardware necessary for your business. The best software in the world is useless without the right hardware to go with it. For pharmacies in particular, you'll want a variety of hardware created specifically for your industry to ensure maximum security, efficiency, and profitability. When making your purchase decision, look for pharmacy POS hardware peripherals such as:
Barcode scanner
Receipt printer
Payment terminal
Register screen
Cash drawer
Touch screen
Wireless handheld devices
Pole displays
Customer screens
Biometric fingerprint sensor
Signature pad
The right mix of innovative point of sale software and hardware will ensure a maximum return on investment for your pharmacy retail technology.
Top POS Mistakes to Avoid
When it comes to selecting the right pharmacy point of sale software, it can be challenging to know where to start.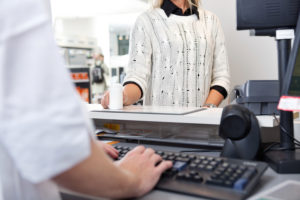 "Buyer's remorse" and "buyer beware" are terms we've all heard for a reason, and the pharmacy industry is not exempt from their truth. To spare you from significant buyer's remorse and monetary losses, we've compiled a list of the 5 biggest mistakes people make when buying a pharmacy POS software– so you know what to avoid during your hunt for a new POS:
Not Reading the Fine Print 
If a deal looks too good to be true, it probably is. That has unfortunately been the trend in the industry over the last couple of years, as low price or "free" systems have flooded the market with attractive up-front costs. What is unseen in these offers are the dubious terms, limited services offered, and unknown total cost of ownership. If one company is asking you about data conversion, onsite and ongoing training, security compliance, support and upgrades, and another just faxes you a piece of paper with a low cost in bold– that's a red flag. In those situations, either the necessary services are not offered or you'll be billed afterwards. If you're not reading the fine print, don't be surprised if there are shocking cancellation fees or extra charges in there. To be safe, it's recommended to avoid these "free" or low cost providers, and instead find one who is honest, upfront, and is a trusted leader in pharmacy retail technology.
Not Sweating the Small Stuff 
The devil is in the details. The details are what truly differentiates an industry-focused pharmacy POS system and a "me too" product that doesn't help grow your business. For instance, many companies list "Rx Scanning" as a feature, but what does that actually mean? Your pharmacy needs a solution that truly integrates with the dispensary to make your day-to-day workflow easier and empowers your staff to give rockstar customer service. Additional features such as integrated debit, credit, accounts receivable, and fingerprint sensors are all areas where the details matter. Don't make the mistake of assuming these features are identical in each system. Ask for documentation, watch a demo or ask for references when analyzing new pharmacy retail technology.
Pinching Pennies 
Looking for a cost-effective option for your point of sale system is not a bad thing, but retailers shouldn't base their decision on price alone. A pharmacy POS system is absolutely critical to your operations, and is one time where quality should overrule price. Instead of trying to find the cheapest system, look for a POS that has been used by thousands of retailers, provides the features and upgrades you want, and the ongoing support that you need. If you invest in the proper pharmacy retail technology, you'll get a greater ROI and a longer product lifespan than you would with a cheap, disposable system.
Buying off the Shelf 
You're a Pharmacist. You went to school, studied, trained and worked for years to build up the knowledge and expertise that you have. It isn't just anyone that can do your job. The same can be said for your pharmacy POS system provider. Are they new to the industry? Do they sell to restaurants and clothing stores? When considering a new POS system, don't make the mistake of buying a general product off the shelf. Make sure that you're working with pharmacy experts that understand the intricacies of the pharmacy industry. Whether it's changes in legislation, software integration, or ways to optimize your workflow, don't be caught with a product or a provider that fails to meet your needs.
Who's Watching your Back? 
Was your pharmacy retail technology system delivered by FedEx or by an industry expert who knows your business inside and out? Many point of sale companies are only interested in getting the initial sale finalized as quickly as possible and then moving on to the next one. Your retail pharmacy business is dynamic and your needs change year over year as you grow. Too many POS customers don't ask about ongoing support and maintenance for their systems and end up quickly disappointed with an outdated and unsupported product. Make sure your pharmacy point of sale provider has your back not only during the sale, but afterwards as well. To get a better idea of how reliable a POS provider is, ask questions such as:
How long has your company been in business?
Have you worked with pharmacy retailers before?
What are your support procedures?
How often do you update and enhance your product?
POS Retail Pharmacy Strategy
Now that you know what to avoid when purchasing a new retail pharmacy point of sale system, it's time to think strategically. Retailers should choose a POS solution that aligns with both their short and long term business goals, and is easily scalable to meet those objectives. You don't want to be stuck with a pharmacy retail technology that limits your options and holds you back as you grow; you want a solution that will flourish and expand with you.
Look for features and capabilities that will not only make your day-to-day life easier, but also grow your business long-term, such as:
How Retail Pharmacy Trends Affect Your POS Decision
The pharmacy industry is a dynamic market that evolves quickly as new advances are made in the healthcare landscape, so it's important that your technology can keep up the pace. Search for a provider that knows and values your industry, and will provide the right pharmacy retail technology features you need to be successful in your market. Beyond that, best-in-class providers will remain committed to innovation even after the sale, and will offer software updates when necessary.
Pharmacy retailers need a point of sale that constantly meets consumer demands, and can be utilized as trends come and go. To accomplish this, look for a POS that has advanced customer management functionality that offers flexible loyalty and promotion options that can be adjusted to meet the ever-changing needs of your customers. Advanced inventory management and purchasing is also important to look for if you want to track and stock different levels of inventory based on the current industry trends and buying patterns.
Understanding Pharmacy Retail Technology is Key
When selecting new retail pharmacy technology, education is key. It can be a challenge for pharmacy owners to sift through the many POS options on the market today to find the one that's the right fit for them. Purchasing a cheap, "one-size-fits-all" point of sale system will not provide your pharmacy the proper features, functionality, and expertise that you need to remain profitable and competitive in today's industry. A point of sale is a crucial investment to your pharmacy's success, so the more research you do and questions you ask, the better.
Making a mistake when selecting a pharmacy POS system can be a costly one. If you've made one of these mistakes or are evaluating products for your pharmacy, download our Pharmacy Point of Sale Buyer's Guide for more insight on how to make the right decision. The Auto-Star team has decades of experience working with independent pharmacies, and would love to discuss our software options with you. Contact one of our experts today for more information.